Auto Accident
We specialize in Injuries due to

Auto Accidents

, S

ports Injuries

and W

ork Related

Injuries: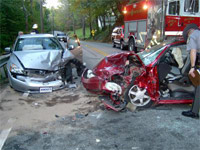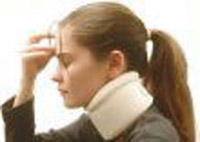 Whiplash and the Chiropractic Lifestyle
The tragic result of uncorrected trauma.
Collisions that occor durning sporting events, slips, falls or automobile crashes can all have a damaging effect on your neck and back. These types of collision-related injuries are often called "whiplash."
The resulting instability of the spine and soft tissues can contribute to headaches, diziness, blurred vision, pain in the shoulders, arms and hands, reduced ability to turn and bend and low back problems. As the body attempts to adabt, symtoms may not appear until weeks or even months later. So make sure that you seek medical attention as soon as possible.
The Chiropractic approach to these types of injuries is to use specific Chiropractic adjustments to help normalize spinal function. After a thorough case history and examination, the Doctor will recommend a series of visits to help restore proper motion and position of spinal bones. If caught early enough, infllammation can be reduced and scar tissue can often be minimized.
Consult your Doctor before making a Life changing decision to try Addictive Pain Medication or Surgery to endure headaches.
---
Most auto-related whiplash injuries occur when a car is in a full stop and you are unaware that your about to be hit from the side or behind.
---
WHY US??
We treat injuries from Auto Accidents, even if

YOUR AT FAULT!
Workers compensation certified.

Large referal network for MRI, Orthopeadic's and Neurologists.
We are a primary care doctors office - No referal needed to see us.
Our office has the latest equiptment including: x-ray, flexion-distraction, traction, electric muscle stim, ultrasound, hydrotherapy and more....
We Understand that you have a busy life so we open early 8am to 7 pm for your convenience.
Convenient location for Margate, Coral Springs, Coconut Creek, West Boca Raton, Pompano Beach.
Over 20 years in practice.
Chiropractic, Massage Therapy & Physical Therapy in 1 office.
We accept most insurance including:

all auto insurance, all PPO plans and workers comp.

Over 150,000 Adjustments preformed and counting.
---
Call to schedule for same day appointment at 954-2886-969 or CLICK HERE.
GIFT CERTIFICATES AVAILABLE!